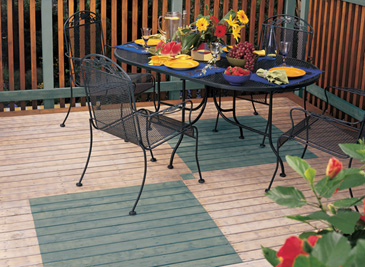 Our painting and decorating techniques can help you breathe new life into outdoor spaces. The deck or patio shouldn't just be viewed from your window. Let our outdoor design ideas inspire you to transform your deck, porch, or yard into a fun gathering place that reflects your lifestyle.
Deck Ideas
Your deck should accommodate different aspects of your lifestyle, including entertainment, relaxation, and places where the children can play.
Think in terms of how you can organize your deck space into separate areas for your different needs. Create a sheltered nook for a quiet hideaway by using decorative screens, trellises, or planters.
If you are building a deck from scratch – and you have the space – consider outdoor deck design ideas featuring multiple layers. If that isn't feasible, changing the direction of the deck boards is an easy approach to visually carving out a separate space.
Deck color ideas
Using different stain colors to designate where one area begins and another ends is a great way to define space for both new and existing decks. You can incorporate a variety of deck color ideas into a single space – including adding different hues to the transition area leading from your home's interior space to the deck, or as a design element for visual impact.
See our complete line of exterior wood and deck stains, including transparent, semi–transparent, and solid color stains, or visit your local Benjamin Moore retailer for colors and deck design ideas that are appropriate for your area.
Lighting considerations
Here are some illuminating ideas to keep you entertaining regardless of the hour:
•Candles – from large stand–alone pillars to clusters of tiny tea lights
•Lanterns – hurricane, paper, or glass
•String lights – wrap them around nearby trees (including any potted ones on the deck), deck railings, or along awnings and umbrellas
•Chimeneas – these small outdoor fireplaces are a great source of light and heat
•Solar lighting – place them along steps and entryways for safe stepping
Source: Benjamin Moore